I've always been a Valve nut. I think it was Portal 2 that originally got me, I freakin' loved it. Since then I've been gradually collecting their games. After that I got Left4Dead2, and after that I got The Orange Box. The Orange Box was by far the most intelligent buy I have ever made. There was so much gameplay there and I rapidly ate up Portal and Team Fortress 2, leaving me to absorb the goodness of Half-Life.
The Orange Box contained Half-life 2, Half-life 2: Episode One, and Half-life 2: Episode Two, and god did I love those games. There were all excellent examples of perfectly crafted shooters, and if I were to start talking about them I would probably never stop. So instead I am going to focus on the final battle of Half-Life 2: Episode 2.
The final battle in not necessarily the end. The end is the credits, the final video, it's what ties the story up and cools the player down so that they are ready to re-enter the real world. The final battle is meant to heat up the player, designed as the final rush, the wave goodbye, final battles are what are remembered.
But how to do it well? A good end can make all the difference.
The end of HL2: Ep2 was certainly a bang. Given the job of defending a base against Striders, (giant three legged things with guns) I had to use special bombs that could be thrown and stuck to the creature than detonated to kill in one shot. The problem was that the Striders were surrounded by Hunters who would shoot and deactivate the bombs before they reach their target. So you had to take out them first.
Hunters were terrifying, almost more than the Striders – let them get close to you and you were screwed. Manic and dog-like, they could take you down in seconds so you had to aim from afar. But a few good shots could take out the Hunters no problem.
So it seemed easy at first, take out the Hunters, take out the Strider. Three came but I managed to take them out before they came even close to the base. Three more came and although I'd used all the ammo on my rocket I could use my other guns just fine to take out the Hunters.
Then three more came.
Then three more.
Than six.
At this point I was stooling myself. And not because the hunter packs were getting bigger, not because the striders were getting faster. That wasn't happening at all. They were the same Hunters, the same Striders. Oh no, my problems were much less epic.
I was running out of ammo, fast.
The game didn't do much to resupply me either. After a while I'd used all the ammo on my best guns. I was taking out hunters with pistols and crowbars. Than not even that. I was picking up rocks and chucking them because that was all I could do. And all the time the striders were inching ever closer. And they never seemed to stop, every wave I was thinking "Surely this is the last!", but it wasn't. I was being forced to be imaginative. When there were no rocks around I found that my car made a perfectly fine weapon if I hit the Hunters with the right speed. When my car was far away I discovered that it only took 80 shots from my practically infinite ammo and I could take down a Strider WITHOUT even having to use the bombs!
Basically, I was getting desperate. I felt like adrenaline was going to start leaking out of my ears. I remember when one Strider was getting very close to the base and I managed to snipe the bomb I had attached to it from a very long range with a pistol. I felt so epic in that moment, I was killing Hunters with stones for god's sake! These were the things that had terrified me for so long and now they were mere annoyances, the challenge not becoming killing them but working out HOW.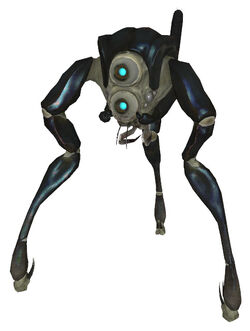 I am to this day not quite sure how they did it. But I can tell you a few things I think they might have did, and if not these are things you should take into account when performing the final battle. I stress this is the battle rather than the ending sequence.
First, Half-Life was clever to use Hunters and Striders in the final battle. Hunters were new to HL2: Ep2 and the game tries hard to make them intensely scary. Before the final battle you only saw Hunters in packs of 4-5 and only about twice. And god was it hard to beat them. In the final battle you end up killing Hunters with rocks and stones, something you wouldn't dream of doing before. Valve did one of two things or a combination of the both here.
They made the terrain different, before you tended to fight Hunters in close quarters, this time you're fighting from afar. Hunters are strong close up but weak from a distance.
They (might have) made Hunters weaker. Only slightly, not enough to notice but enough to make a difference.
All this adds up to the player killing monsters that had tormented them throughoutt the game in vast and hilarious quantities, and in unique ways. Making the player feel freakin' epic, I think you'll agree.
Second, they made ammo rare – they probably used spawning algorithms for this, making sure the player was always at the brink. Half-Life is unique in that the player carries all the weapons at once so you actually have quite a lot of ammo in them. However, some weapons are more useful than others. For instance, the rocket launcher pretty much kicks the pistol's ass. As ammo runs short you have to be smart, using your weapons in inventive ways to ensure kills, making you feel even more awesome as you snipe a Strider with a pistol from a long distance.
Third, they used danger that isn't really there, we just think it is. I was trying so hard to stop the Striders from getting in range of the base, but I never knew what the "range" was, the game implied it was the usual Strider shooting range, which is far. So, it became my mission to stop the Striders from getting within that range. A Strider did get within what I assumed was the range once but I didn't lose. And it was only after I finished playing that I realised that actually, the "range" was probably right up against the base, I never knew because the Striders never got there. I got through the whole level and they never reached it. I did die a few times fighting, though.
I dub this "Holographic danger" and what it basically means is that the game used cues, (The Striders had blown up buildings from very far distances before, their guns could shoot from a long way away, the warning systems told me if a Strider was getting near way before it actually WAS near.), to make me think that there was danger when actually there was a lot less. This pumps up the adrenaline without making it pointlessly hard.
All I can say that I think Valve used these techniques. I may be wrong, but one way or another these techniques are still in place. When it comes to the final boss, perhaps try to use a few.
I've always been a Valve nut and always will be. This, my friends, is why. Only Valve can make a game in which I am reduced to a shivering mess dribbling incoherent babble like "I sniped a STRIDER with a pistol. A pistol!" at my unnerved brother. Only a game like this.
ABOUT THE AUTHOR: Joseph, or Lawsome, as the internet folk call him – Spends a lot of time making games, most of which fall apart or don't work and are never published, but the few that survive can be found on his account at Yoyogames http://sandbox.yoyogames.com/users/Lawsome1997. He mainly enjoys writing about game theory but you'll see him do a few reviews. He avoids games that look generic and would rather play something original than something fun. He has strong opinions on games and can hold his own in an argument, if you tell him that COD MW3 is the best game ever he may bite your head off.