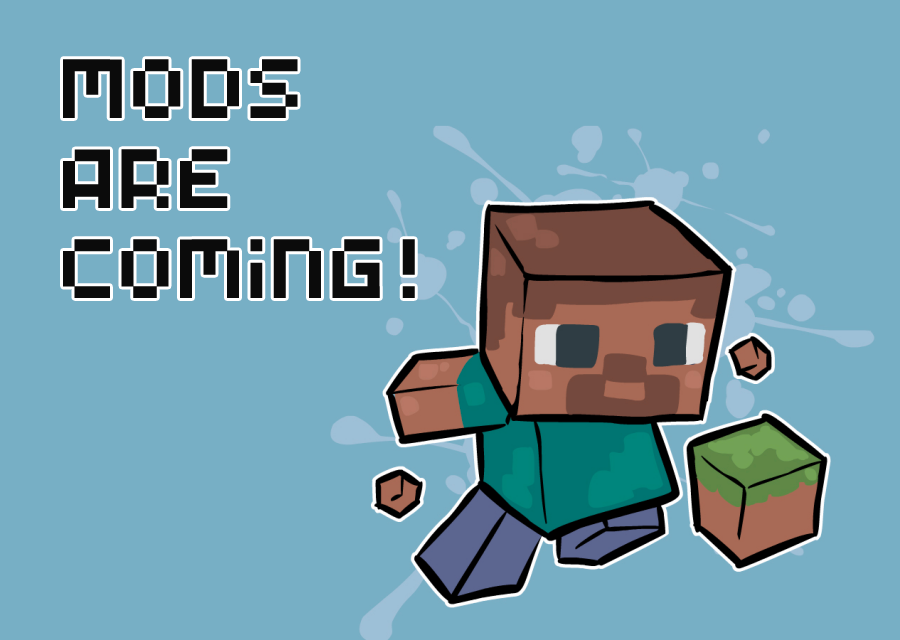 If you are human then chances are you've heard of Minecraft. You know, it's that stupendously ugly game with the cubes that everyone is obsessed with? Well, a lot of people have been complaining about the recent updates, saying they are making the game too easy. Well, I am here to put those thought to rest by mashing them out of your skull with a sledgehammer.
Players of Minecraft can roughly be divided into new and old. New players are like a 5 year old on his first trip to Disneyland, continually fascinated by even the slightest thing, and almost continually happy. Now imagine that you take that child to Disneyland once a month for 12 years, and by the time they are 17 they'll be bored with the Disneyland. They'll know it inside out and all around and they'll spend most of the time either asking to leave or smoking meth with Donald duck. At this point they are an old member.
Now the transition from a cute but slightly irritating 5 year old to an irritating and slightly high 17 year old is not a sudden one. It's not like a child just goes from darling to druggie in one step. They have to grow up, go through puberty, get a girlfriend, drop out of school, start going to rave clubs… And the same is with players of Minecraft, I don't mean that Minecraft players need to get girlfriends (though they do). I mean that the transition from new to old player is a slow one.
Minecraft is an addictive game, and it's played by a lot of people so Mojang has to facilitate the needs of both new and old players. This is a decision that will be faced by anyone wanting to make a game designed to be played for huge amounts of time (CoD, Skyrim, even Doodle Jump).
Minecraft makes quite a bit of cash from merchandise sales, perhaps even as much as they make from the game itself, and merchandise is only sold if the game is good. It's not like you can pull a Dead Island and make tons of sales because of how amazing the ad is even through the game isn't up to people's standards. Merch sales rely on all players enjoying the game, new and old.
Now, the Minecraft community is pretty polarised, and the new and old players basically hate each other despite the fact that they were or are destined to become one another. And anyone who has ever been faced with noobs on CoD knows the kind of horror that can occur when a polarised community develops, like 15 hundred howler monkeys all in the same cage.
Minecraft gets past these problems by allowing servers, so the young howler monkeys and the old howler monkeys can be split up into separate boxes in the hope that that will stop them screaming at each other. Of course, all that happens is that the micro-communities polarize again, so now the youngest of the old and the oldest of the old are screaming at each other and you have to split up the box once more. And so on and so on until you have lots and lots of little boxes each with about 10-20 howler monkeys in. This process is done automatically by the community on Minecraft, but in CoD most games are randomly assigned and for that reason there is a higher chance of noobs and pros being put together and therefore more pointless arguments.
Anyway, back to the point, which is that facilitating the needs of 15 thousand howler monkeys is not an easy task. All the monkeys have their own requirements but they are all getting the same "food", so whenever Mojang releases an update some monkeys are gonna start screaming.
Now, a screaming monkey is a lot louder then a happy one, so if even a tenth of those monkeys are unhappy then it sounds like a thousand harpies rising from hell and soon all the monkeys are screaming to be let out of their boxes and banging on the sides of the boxes and dung is flung everywhere and the whole room smells like a baboon's armpit, sounds like a cat in a blender and looks like the Amazon if it were struck by an earthquake.
Wait, where am I? Right, the problem with Minecraft at the moment.
Vanilla (unmodded) Minecraft has been being made easier. Villager trading means nothing is unobtainable now; all you need to do is collect enough money. Cocoa beans are farmable and new tools mean you can get more drops for your ores. Making vanilla easier has the effect of making the new players happy (because they can get all this cool stuff straight away) and the old players angry (because there is less challenge).
And so, you get screaming monkeys.
And to think that all this is caused by a total misunderstanding of what Minecraft actually is.
What if each monkey got to choose what food they ate? Then there would be no screaming monkeys. Mojang only has so much time to put into cooking – they can't cook the perfect meal with their resources and therefore have to choose who to favour, but what if each meal favoured the monkey it was given to? I'm talking about MODS.
Minecraft is almost drowning in mods. You can add cookies, castles, carrots… Basically anything you want! And Mojang knows this – they know that mods have the power to change the game in anyway the player wants, and they embrace this. Minecraft, though not born to be modded, is built to be modded. Every player can have their own game.
So now, monkey A is quite old and downloads a mod to upgrade his vanilla food pellet to the much preferred live food pellet, which requires more challenge to eat but is much more rewarding. Monkey B is a lot younger though and doesn't really know how to download mods, but doesn't want a food pellet that runs away, so Mojang make sure the vanilla pellet is unchallenging to eat so that both monkeys are satisfied. However, now monkey A is complaining because he preferred the food pellet before the 1.3 patch, which was half dead and so posed medium challenge, despite the fact he spends most of the time eating his modded pellet anyway. And yes, he starts screaming.
Now, if that monkey had just been happy with his modded pellet and not complained about the quality of the pellet he barely uses anyway, everyone would have been happy, and sometimes this is the case, but other times you get things like monkey 3.
Now, monkey 3 is an old hipster monkey. He doesn't download mods because he feels they are cheating in some way, so despite the fact that downloading a mod would help him out, he blurts his lungs out every time a change comes around that takes focus away from him and on to the younger users. Monkey 3 is refusing the very thing that would assist him, and then complaining that he is not being assisted.
Monkey 3 is my least favourite monkey.
And you may have worked out what this huge extended metaphor is all about now. What I'm trying to say is that mods are not so much an extension to Minecraft as a part of it. Mojang has been focusing on the new players because they expect the old players to download mods, and before you dismiss that as laziness, may I remind you that Mojang only has so much time and money to spend, and they choose to spend it where the community does not give support.
I imagine the conversation went a little like this:
"Should we focus on making Minecraft more challenging?"
"No people have mods to do that, we need to focus on making Minecraft a more pleasant game for newer players who cannot download mods."
"How would we do that?"
"By making items that were once rare easier to obtain of course!"
And yes, it would be better if they added in more options than just easy, normal, hard, or hardcore. Like ones that made things rare again perhaps, but that's just what a lot of mods do anyway. And yes, they need to get the Modding API out faster but again that is a lot of work and they only have so much time. I guarantee it will get done eventually.
So if you are an old player and you are not using mods but you are still angry at the direction the game is headed you are either:
*Stupid.
*Pretentious.
*Just afraid that you are ruining the purity of the game.
And in the likely chance you are 3 I have this to say:
Mods are the extra rides in Disneyland, the ones you haven't been on yet. So pull that meth pipe out of your mouth, you silly howler monkey and go enjoy the coasters. The theme park is infinite now.
About The Author: Joseph, or Lawsome, as the internet folk call him. He spends a lot of time making games, most of which fall apart or don't work and are never published, but the few that survive can be found on his account at Yoyogames – http://sandbox.yoyogames.com/users/Lawsome1997. He mainly enjoys writing about game theory but you'll see him do a few reviews. He avoids games that look generic and would rather play something original than something fun. He has strong opinions on games and can hold his own in an argument, if you tell him that COD MW3 is the best game ever he may bite your head off.